For a customer who expects to purchase this product individually
Micro bubble Generator for home bathroom uses has the following 3 types.
Please select one which matches with your home shower type.
1. A type for attaching to a showerhead
The screw connection diameter for a showerhead and a shower hose is the type G1/2.

Unable to attach the following types.
① A showerhead in which the inside and outside diameter of the hole of the hose attachment are irregular.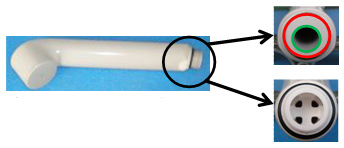 ② A showerhead which has any projections or objects inside of the hose attachment hole.
③ A showerhead in which the inside of a water running way is extremely bent.
④ A water-saving type of showerhead which has an extremely narrow inside of a water running way.
2. A type for attaching between a water faucet and a shower hose.
The screw connection diameter of the elbow which attaches a shower hose to a water faucet is a type of G1/2.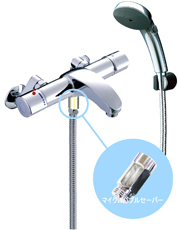 3. A type for exchanging the showerhead completely.
It will be on the market around March of 2014.
4. The effect will be significant if it is piled up a little-by-little since it comes from an everyday shower in the bathroom.
From babies, children, elderly, and even pets, all family members can use it.
The micro bubble which comes out from the Micro Bubble Generator is the tap water itself.
It converts the air contained in tap water into micro bubbles by force through an operation called cavitation.
Therefore, since it is the tap water itself in which nothing is mixed, it is safe and secure.
For those who are in their middle-ages or later, it also reduces odor that can be caused by clogged pores.
Customers' Comments
- While taking a shower, you rinse your mouth 2 or 3 times for 20-30 seconds, which will make you feel refreshed.
- I take the tank for my pets into the bathroom shampoo my pet. It seems that it feels great.
- It seems that our dog really enjoys the effects of micro bubbles.
5. A water-saving effect
In the case of Tokyo, it costs about 10 yen to shower for 1 minute based on an estimated calculation of the price of water and gas rates.
Taking a shower for 5 minutes costs about 50 yen. When you save water and energy at 20%, you could save about 10 yen.
If there are 4 people in the family, at 40 yen per day, it will accumulate to approximately 1200 yen saved in a month.
Customers' Comments
- I have worried about the bill payment because of my kids' long shower time. This helps to save a little extra money.
- It seems like we no longer get chills after taking micro bubble baths.
- Because the water pressure is quite high, it saves 30% or more of our water when measuring with a bucket.